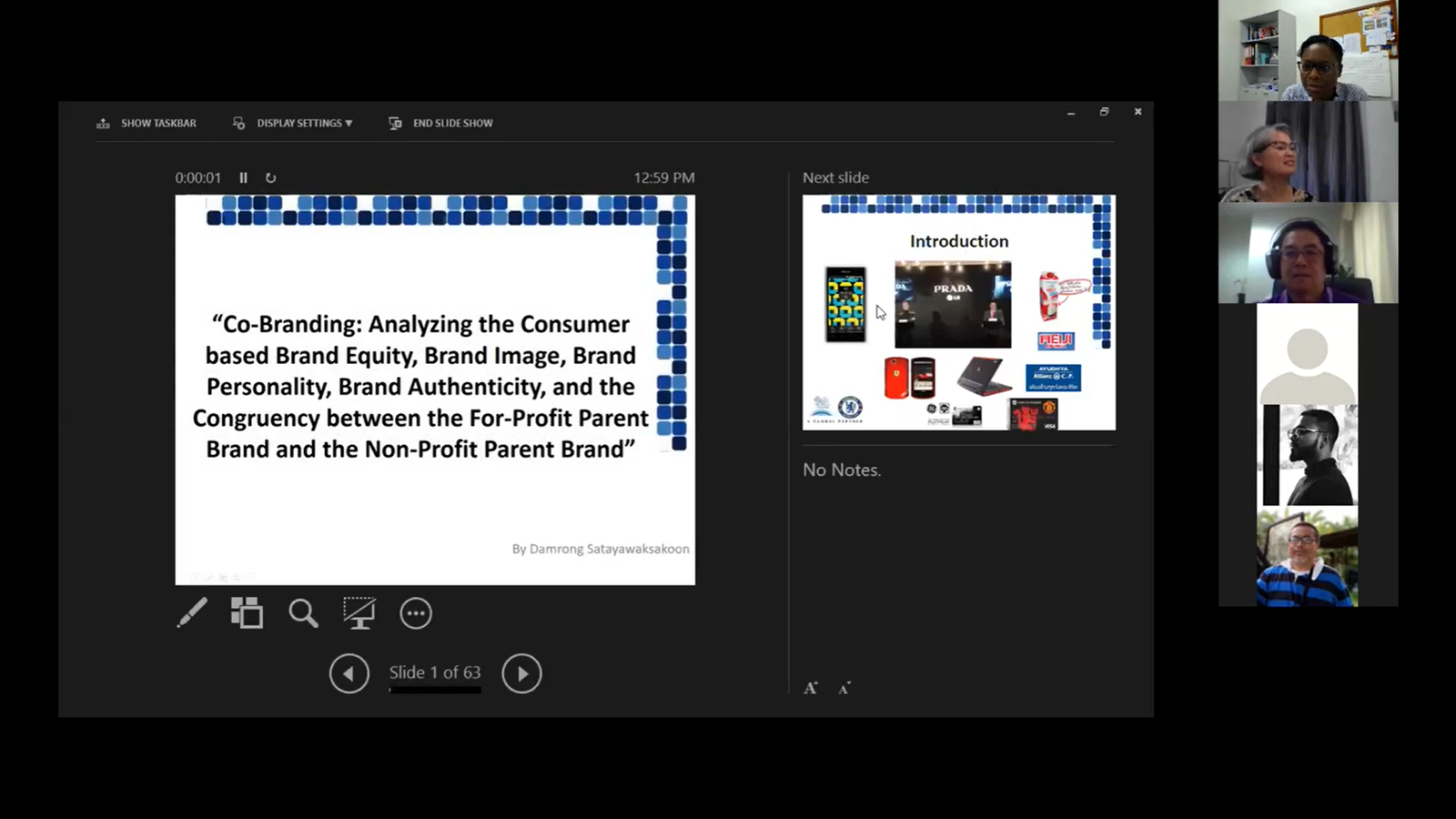 Co-branding: Analyzing the Consumer-based Brand Equity, Brand Image, Brand Personality, Brand Authenticity, and the Congruency between the For-Profit Parent Brand and the Non-Profit Parent Brand
Speaker: Assistant Professor, Dr Damrong Satayavaksakul
Date: March 5, 2021
Description:Co-branding is becoming increasingly popular. Marketers use this brand strategy in attempting to transfer the positive associations of the parent brands to a newly formed co-brand. The strategy provides a way for companies to combine forces so that their marketing efforts work in synergy. However, it is possible that consumers' evaluations toward one brand will impact their evaluations of the brand that it is paired with. This research examined the specific components of brand fit, in particular, how the fundamental components of brand image consistency, brand personality similarity, and brand extension authenticity interact between parent brands, transfer their quality to the co-brand, and contribute to the perceived brand fit.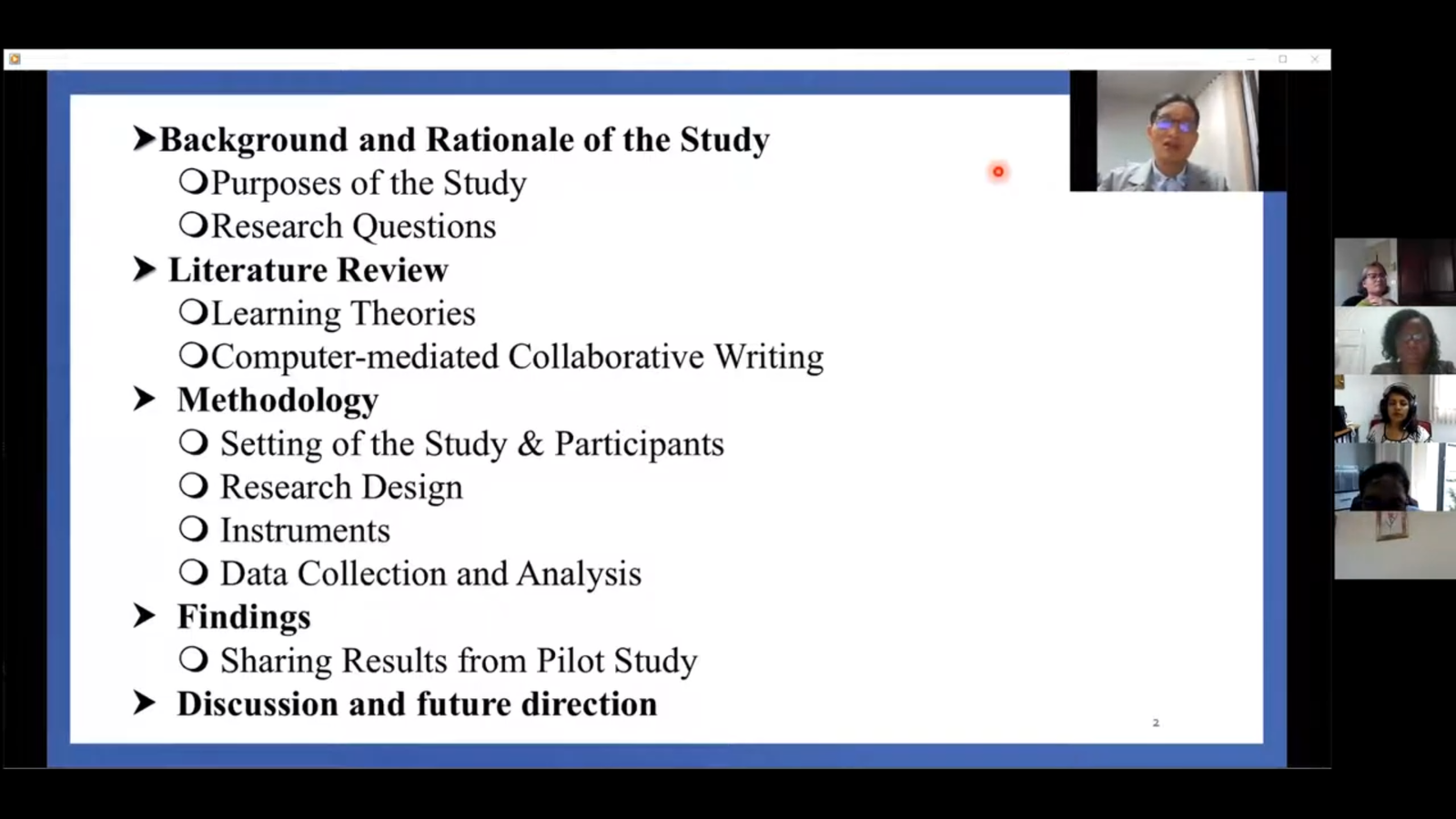 A Case Study of ASEAN EFL Learner's Collaborative Writing and Small Group Interactions with Technological Tools
Speaker: Mr Nakhon Kitjaroonchai
Date: January 29, 2021
Description: In this case study, interaction patterns were explored in small groups of ASEAN EFL university students' collaborative writing tasks using Google Docs. The researcher analyzed quantitative data by using DocuViz. The researcher further employed inductive content analysis from learners' reflection papers, their post-task questionnaire, and semi-structured interviews to enrich the discussion and explanation on how individual members were conceptualized to exhibit such interactions. Some implications of the study are discussed.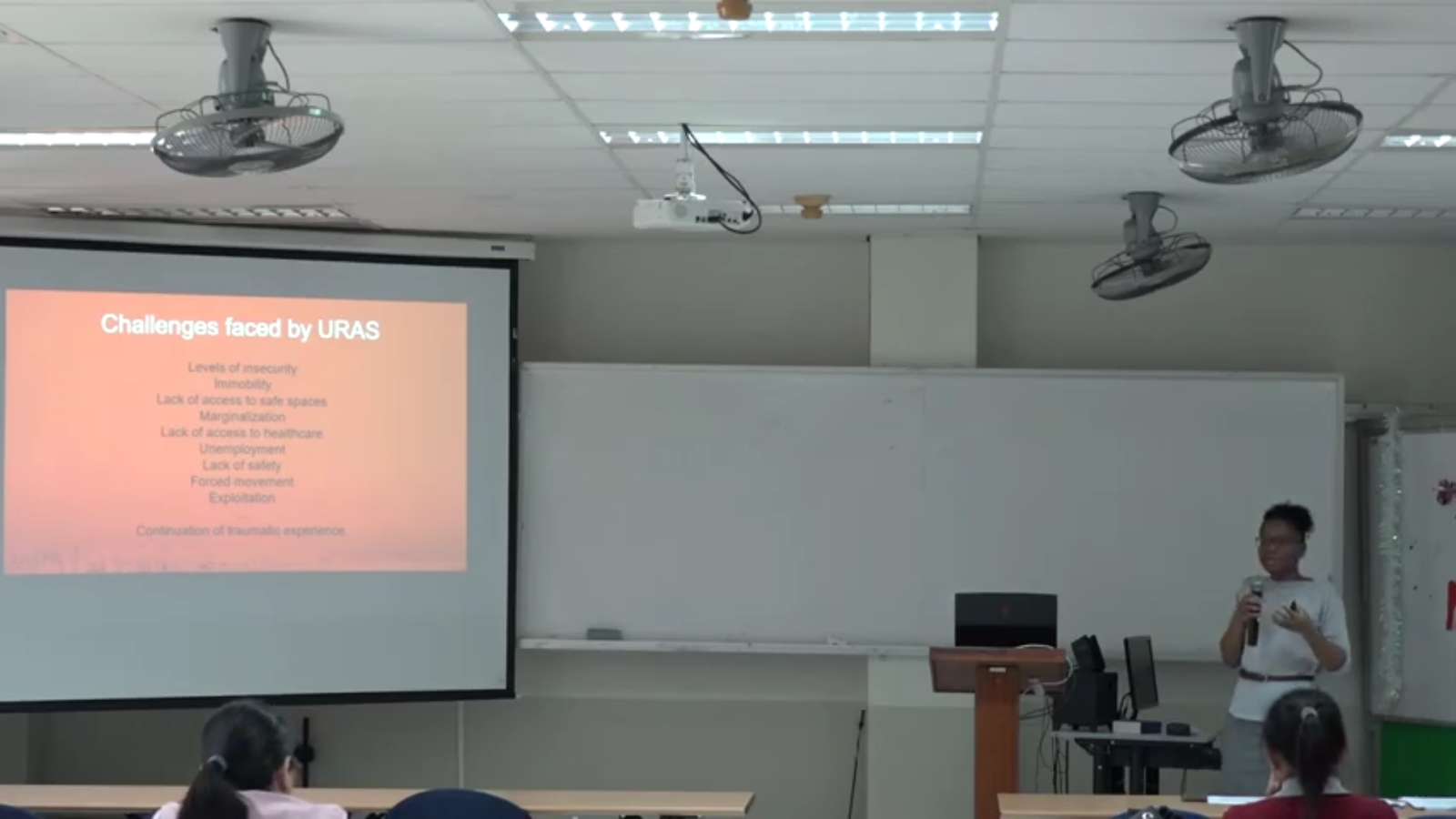 "Waiting for a good life" – The plight of Pakistani urban refugees and asylum seekers living in Thailand
Speaker: Dr. Amanda Simon
Date: December 4, 2020
Description: Over the last decade, the number of urban refugees living in Thailand have grown significantly, yet very little research has been carried out amongst this group. To date, Thailand has not ratified the 1951 Refugee Convention and the 1967 Additional Protocol. This has psychological and social consequences for Urban refugees and asylum seekers (URAS). This study is an investigation into the experiences of Pakistani URAS living in Thailand. The research gives a unique insight into the challenges faced by this hard-to-reach community as they battle for survival whilst waiting for resettlement in a third country. This seminar will include an interactive exploration of qualitative data gathered during this research (which is still in process).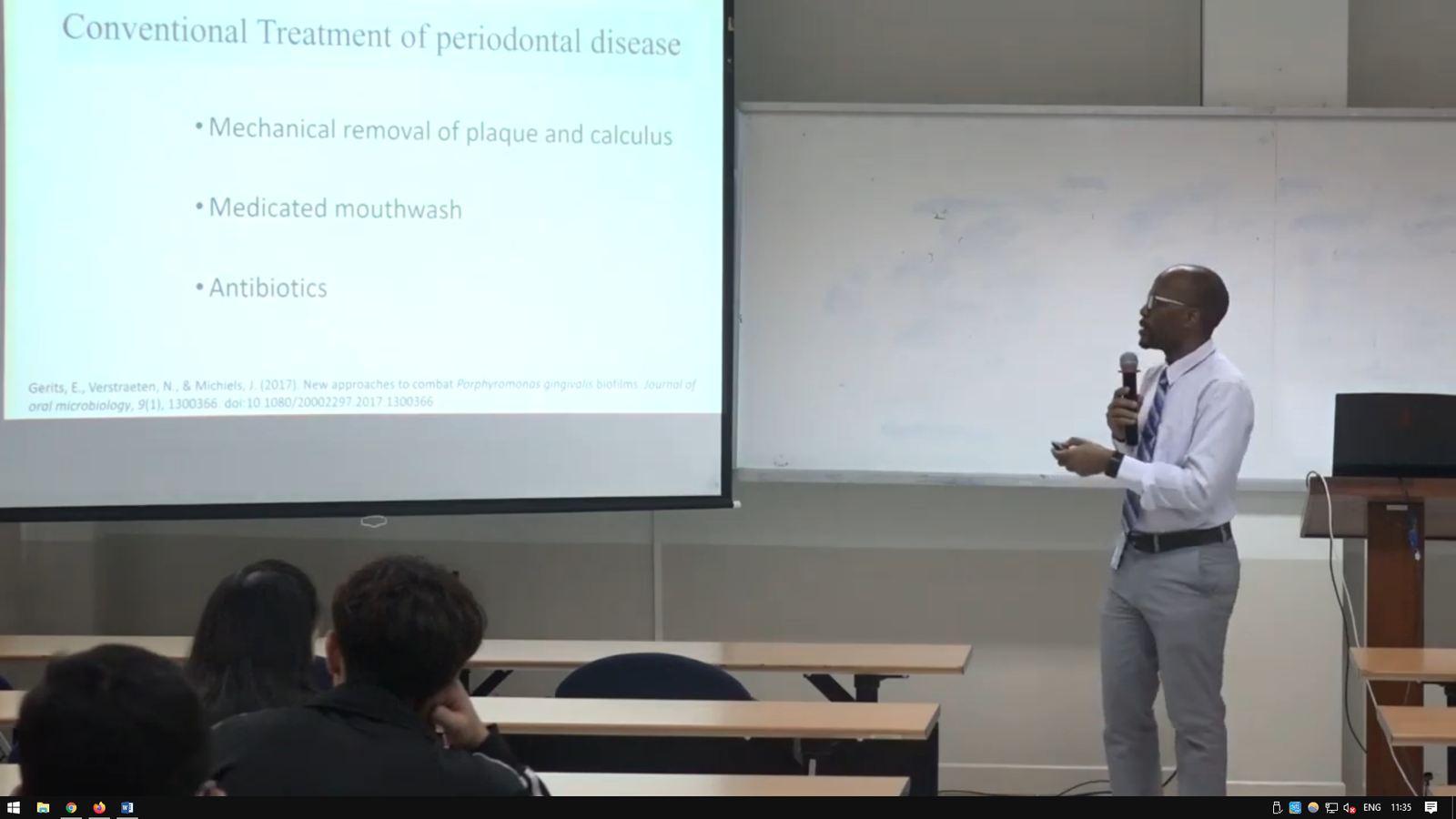 Making Safe Antibiotics that Work
Speaker: Dr. Elvin Walemba
Date: October 30, 2020
Description: The inability of antibiotics to kill/control bcaterial infections is fast becoming a global health threat thus the urgent need for potent, blood-compatible, non-toxic antimicrobials that do not lead to resistance. Our studies show that noble metal nanoparticles can fulfill this role. This research has potential to reveal methods to control oral bacterial infection and previously undescribed interactions of platelets with noble metal alloys that allow for their use in the treatment of oral infections with disease-causing bacteria.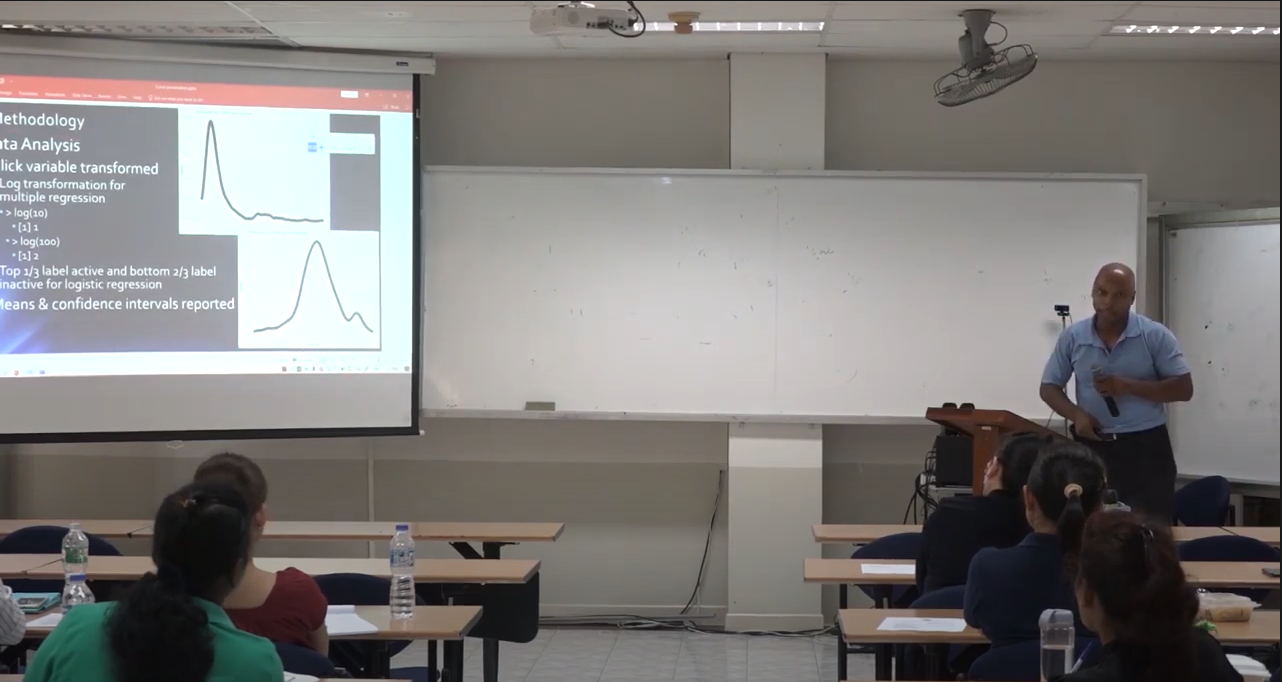 Thailand University Students' E-Learning Behavior during the Global Pandemic
Speaker: Dr. Darrin Thomas
Date: October 2, 2020
Description: The Covid-19 global pandemic has brought massive disruption to education throughout the planet. The purpose of this study was to understand the relationships between e-learning activity and several demographic variables at one university in Thailand. Using several different versions of regression, the study uncovered patterns in who is most actively using the learning management system during the pandemic. Such factors as class level and major play a major role in student use of the LMS. Implications and recommendations will also be discussed.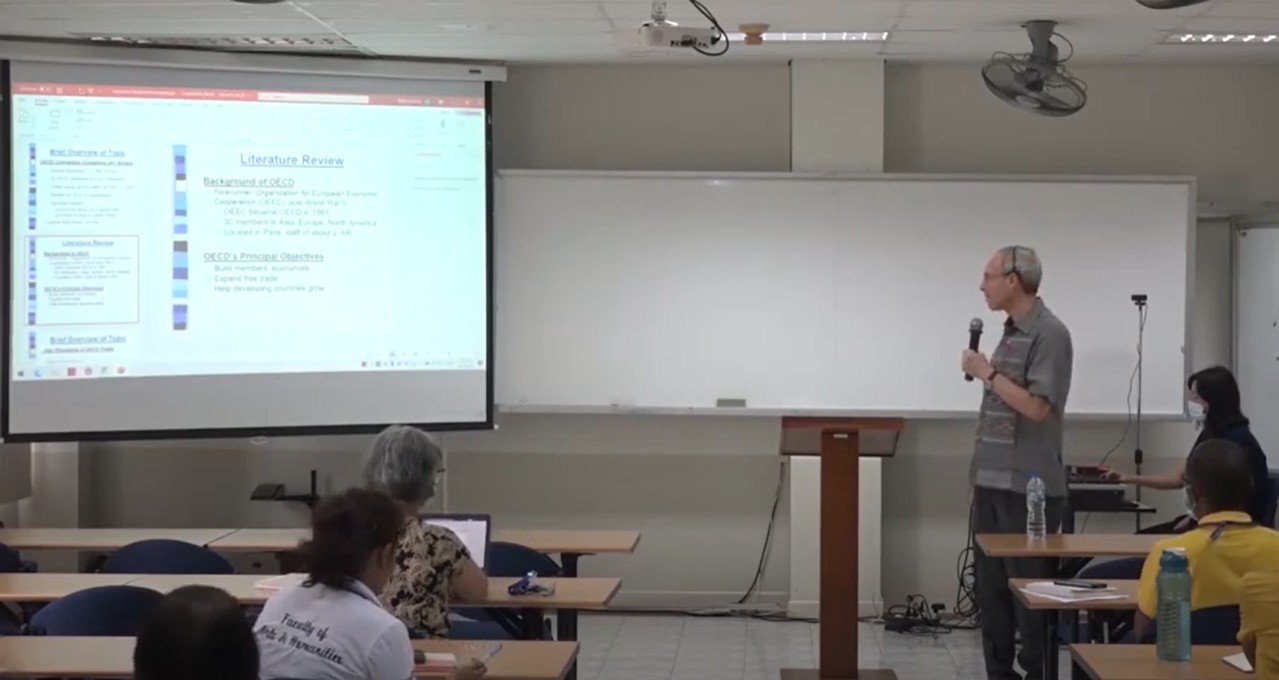 International Bribery and the OECD Convention: The Story of a Qualitative Research Study
Speaker: Dr. Wayne Hamra
Date: August 28, 2020
Description: This presentation tells a story of trying to collect research data about a sensitive topic – "under- the-table" payments that are common in many dealings between businesses and government agencies/officers. Designing a research study that would make people comfortable to open up and talk about this important, but unsavory topic, was quite challenging. This is a story of how the Lord opened doors for Dr Wayne to gather primary data as he conducted several studies on this topic in conjunction with completing his doctoral degree requirements.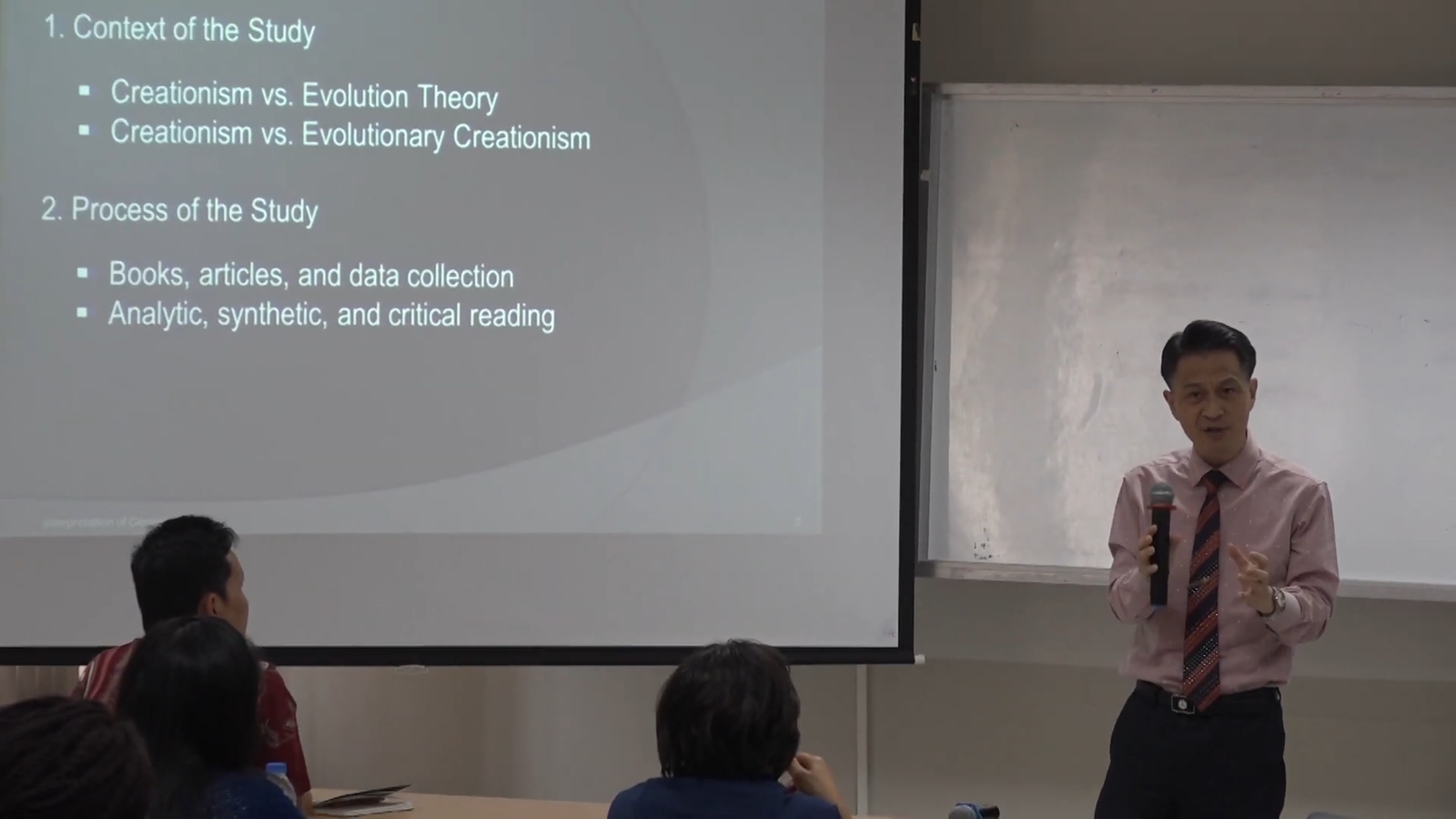 Interpretations of Genesis 1:1
Speaker: Dr. Sang-hoon Jee
Date: March 6, 2020
Description: Recent debates over the translation and meaning of Genesis 1:1 have led to different interpretations of the passage. This study reviews and analyzes the three major interpretations of "In the beginning God created the heavens and the earth" (Gen.1:1, NKJV) prevalent among Seventh-day Adventists, and provide some considerations for evaluation. The study will help distinguish between each interpretation, clarify its tenets, and evaluate its theological implications.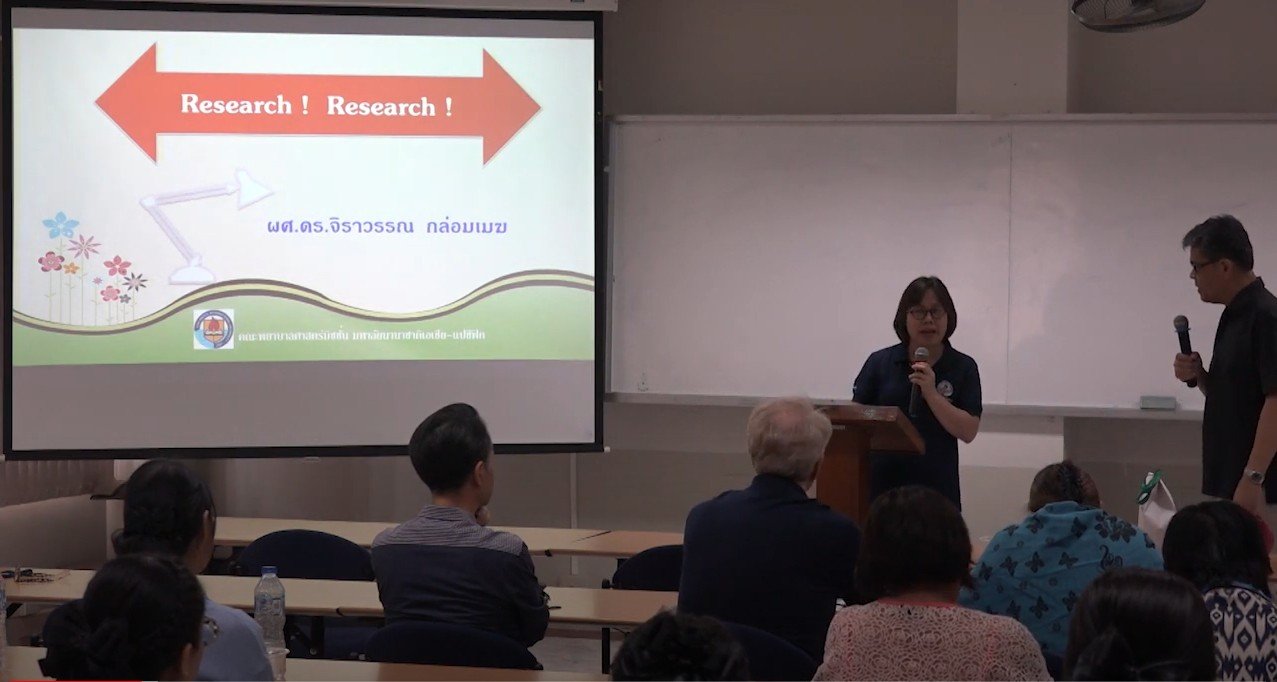 Selected Factors Influencing Nursing Students' Self-Perception of English Communication Skills, AIU
Speaker: Assist. Prof. Dr. Jirawan Klommek
Date: January 31, 2020
Description: While English communication is important for Thai Students, it remains a national problem. This study aimed at identifying the factors of learning, learning and teaching, and the social influence of self-perception of English communication skills, among junior nursing students. This study utilized a descriptive predictive and cross-sectional design. Data were analyzed using descriptive statistics and Stepwise Multiple regression.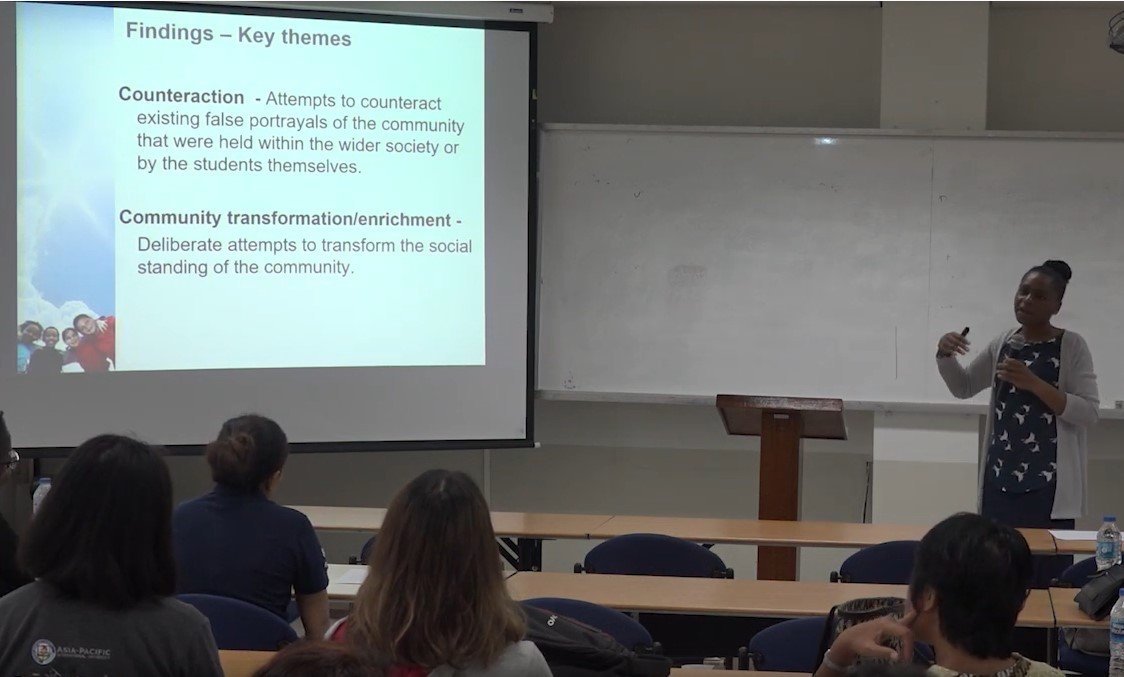 The Construction and Reconstruction of Identities within the Supplementary School Context
Speaker: Dr Amanda Simon
Date: November 1, 2019
Description: Drawing on empirical data from staff interviews, classroom observations and interactive recordings, this study explores supplementary schools as sites of identity construction, where ethnic minority identities are preserved, defended, renegotiated and reconstructed. The study gives insight into the settlement experiences of minority communities and the ways in which these communities negotiate residence in one country, whilst having roots in another.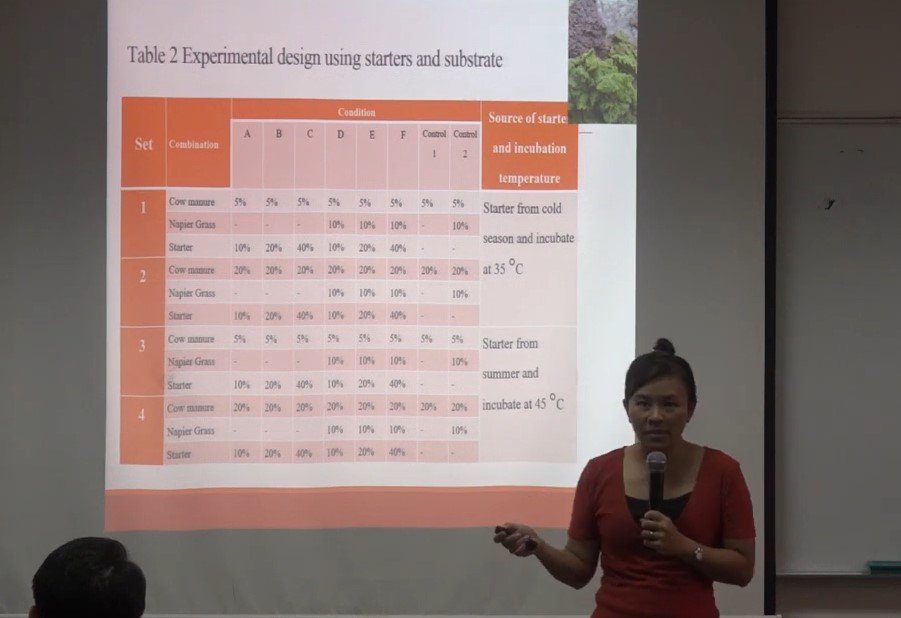 Supporting Sustainable Living among Local Farmers: The Effective Production of Biogas Using Organic Waste
Speaker: Assist. Prof. Dr. Kamolnan Taweeyanyongkul
Date: September 4, 2019
Description: The second seminar was taken by our very own Research Director – Dr Kamolnan Taweeyanongkul, and is entitled: "Supporting sustainable living among local farmers: The effective production of biogas using organic waste". This study explores the effective production of biogas, an important alternative fuel, produced through the digestion of organic matter in the absence of oxygen. This gas can be produced using organic waste such as cow manure from local dairy farms. Farmers can easily construct a simple biogas digester and add free organic waste to produce the biogas for their family cooking fuel. Schools can also use cafeteria waste to produce fuel.
The Role of Religion among Sex Workers in Thailand
Speaker: Dr. Siroj Sorajjakool
Date: August 30, 2019
Description: The first seminar was taken by our beloved President – Dr. Siroj Sorajjakool, and is entitled: "The Role of Religion among Sex Workers in Thailand". This qualitative research seeks the understanding of the role of religion in the lives of sex workers in Thailand. The interviews consisted of 12 participants from two karaoke bars in Bangkok and Thonburi. For recruitment, snowball sampling method was utilized. The analysis of the transcript is based on grounded theory. Findings show that most sex workers experience different levels of life difficulty. The level of life difficulty also affects the experience of internal conflicts regarding sex and morality. Finally religion has been used as a form of ritual purification in dealing with internal sense of conflicts.