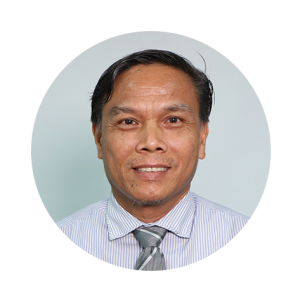 As the Faculty Dean, it is my pleasure to warmly welcome you to this site! The Faculty of Religious Studies (FRS) of Asia-Pacific International University is committed to a God-given Mission to nurture the spiritual lives of its precious future ministers of the Most High; to train and equip them both academically and missiologically; and to develop in them Integrity, Loyalty, and Dedication to serve the Master of Heaven and Earth; above all, to instill in them that only through the power of the Holy Spirit, with Love and Passion for the precious souls to whom Christ died, that the victory in this earth's final battle will be won.
I humbly believe, through the Divine empowerment, that, as a Faculty, we have the capability to fulfill this gargantuan mission. We have Faculty who are experienced and ordained pastors, well-trained academically—five of our faculty have doctoral degrees who came from diverse cultures who fit with our international constituents. Above all, our faculty members are men with Christ-like love, compassion, and passion for Ministry.
The FRS offers only one undergraduate academic program—Bachelor of Arts in Christian Studies with emphasis in Applied Theology. In this program, we try to balance the theory and practical training. We also realize the need of our territory, thus, our curriculum provides courses that would prepare our future pastors to reach out to the Muslims, Buddhist, and Hindus. In practical training, we expose our students to the field for four semester and 2 summers in this four-year academic degree. Furthermore, our curriculum also emphasizes strong Biblical-Theological foundation that would result to solid and sound practical application in the Ministry and Mission of the Seventh-day Adventist church.
If you are interested to study at AIU please contact: . May God bless you as you make your decision.
In Christ Service,
Alfredo Agustin Jr., PhD
Dean, Faculty of Religious Studies
Asia-Pacific International University
Dr Alfredo G. Agustin Jr. earned his BA (Theology) in Mountain View College, The Philippines, MA (Religion) and PhD (Religion in New Testament) in the Adventist International Institute of Advanced Studies (AIIAS), The Philippines. He is deeply passionate for ministry and field evangelism, and is known among his students as the "boiling" preacher, which means "full of spirit". Dr Alfredo comes with more than 25 years of seasoned experience as a field pastor, a university lecturer and an administrator. His present academic interest is to write textbook for New Testament courses.