In August, AIU had the privilege to receive visitors from Laos, Malaysia and the USA.
The first group of visitors come from the Candlelight Language and Vocational Training Center from Laos. Three students and two teachers came to AIU to learn more about our university. During the visitors' short stay (August 23 to 25, 2019), they attended Strategies for Reading classes as well as the Reading Assistant Program. They had a campus tour and visited nearby tourist places, such as Palio and Khao Yai. The visitors also attended church services with our AIU campus family. Mr Khamkhong Thiphavong, administrator and manager at Candlelight and AIU alumnus, expressed the stay was fruitful and the students thoroughly enjoyed the visitation. "It was great and wonderful for them. They want to study there [AIU] after their high school".
The second group of visitors come from Walla Walla University (WWU), USA. This year, the group comprised of one lecturer, Dr Pedrito Maynard-Reid and ten students. They stayed from August 23 to September 10, 2019. Every year, WWU visits AIU to conduct their mission trip at Uncle Prasarn's farm, which is about 20 minutes away from campus. In addition, the group also taught English at Thairath Witthaya 68 school in Muak Lek, helped with medical mobile clinic service with Mission Faculty of Nursing and Bangkok Adventist Hospital, visited Bamboo School in Kanchanaburi province, and learned Thai culture in Bangkok. AIU thank WWU for continuously choosing Thailand and AIU as their place to do mission service, and looks forward to having WWU here next year.
The third group of visitors come from Sabah Adventist Secondary School (SASS) from Malaysia. The visitors comprised of SASS students who are also a well-known state choir group known as Chords of Hope. Teachers, administrators and parents from SASS also joined in this visitation, which totaled up to 48 people. At AIU, the students attended university classes from various departments. The choir also shared their music ministry by presenting a Friday vespers program and rendered special music at the University church services. On Saturday night, the group had a fellowship time with the AIU Malaysian community, which coincided with Malaysia Day. The group then left for Bangkok and continued their ministry at Ekamai International School.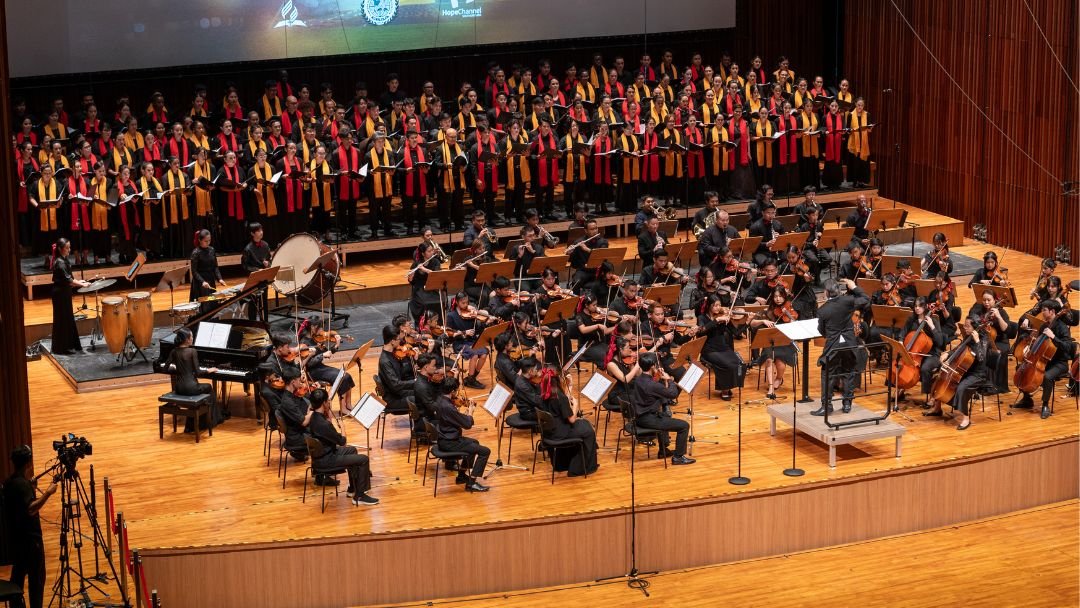 A Harmony of Melodies and Charity at Prince Mahidol Hall Introduction: Harmony in Diversity The...